Actual screenshots: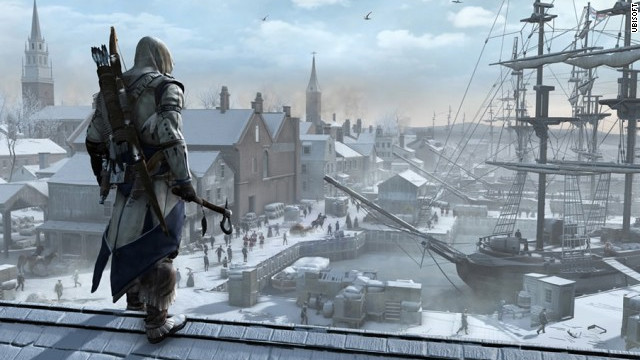 Who like Assassins Creed III? OMG I love this game! The more I play it, the more I like it. I have been playing this game since Christmas. It's a very long and involved game. I think I am very near the end. I am currently in the level where I have to chase Charles Lee in Boston. I already killed Haytham.
PROS:
1. The maps are freaking huge. You can jump on any building and many trees, cliffs, props. I've never seen such a big map before. The natures scenes are amazing. When you travel back to the present, you perform missions in the present.
2. The maps simulate America in the 1700's. Boston, New York, frontier land, etc.
3. The fighting. Lots of hand-to-hand combat with knives, axes, muskets, etc. Very gory.
4. Cut scenes. Some don't like the cut scenese, but they explain the story as you go. You can always skip them.
5. The game gets progressively harder as the game goes on. The enemies become more skilled, so you don't get bored.
6. You can climb just about anything. If you like Parkour, this is your game. lol
7. Musical score is well-done.
8. Great story.
9. Great graphics.
10. Naval battles, cannon battles. Very realistic. You're not just assassinating individuals.
11. Character building. The characters progress and sometimes you are not sure what side they are loyal to.
12. You interact with George Washington, Samuel Adams to name a few. They follow some of the actual events. One of the levels, you participate in the Boston Tea Party.

CONS:
1. The story can be complicated and at times confusing. You are actually traveling through time to find some artifacts.
2. Long game. You will spend a lot of time traveling to locations. But I kinda like that. You can use horses.
3. I wish you could have more input planning assasinations.


Edited by GRINDER - 21 Jan 2013 at 12:34pm